DATA DRIVEN VIEWPOINT: When Obama took office the economy was in a tailspin. We ere loosing 818 thousand jobs per month. During the first half of his term (first half of graphs) he had a Democrat majority in both houses while Republicans in Congress filibustered every Obama initiative. Still, Obama's economic stimulus passed and its impact can be seen in the first several years of data. During the second half of his term Republicans gained control of the House of Representative and effectively block most Obama initiatives on the economy (reflected in the second half of the graphs below) The Housing and foreclosure problems were not properly addressed by a do-nothing Congress, while business and the financial markets came roaring back. We can thank CNN, Money and Fortune for compiling this snapshot of the Obama economy.



CNN-MONEY AND FORTUNE
http://money.cnn.com/galleries/2012/news/economy/1206/gallery.Obama-economy/index.html
OBAMA'S ECONOMY
Job growth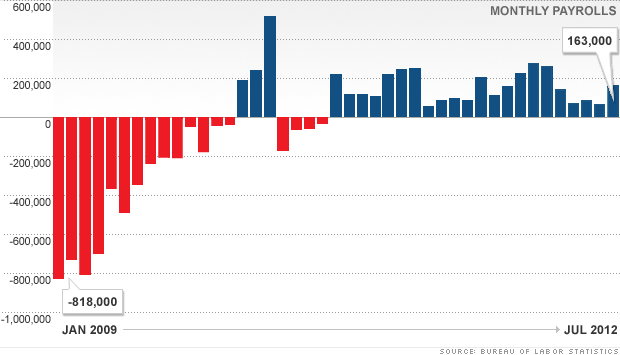 Job losses
peaked in early 2009, and steadily declined throughout the year. The economy finally started creating jobs in the beginning of 2010, but then employers pulled back in the summer. A similar trend occurred in 2011, and then again in 2012, when strong momentum early in the year
stumbled
in the spring.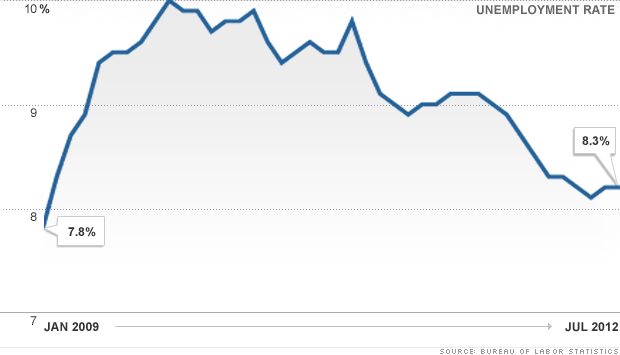 The
unemployment rate
surged to 10% in Obama's first year in office and has fallen gradually since then, landing at 8.2% as of June. Part of the decline has come as some Americans have gone back to work, but also because many workers have
dropped out of the labor force
.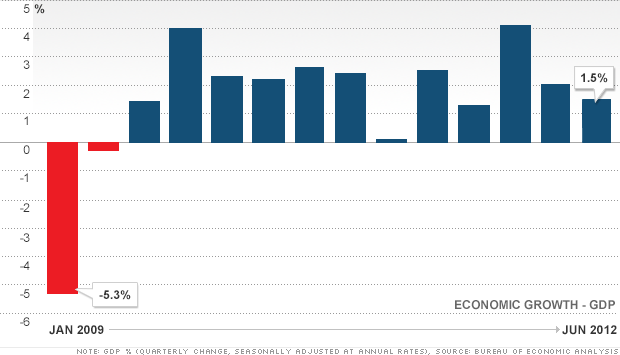 During the first three months of 2009, the economy slumped at an annual rate of 6.7%. Since then
GDP
has been growing and slowly recovering, but the rebound has been a lackluster one compared to those following prior recessions.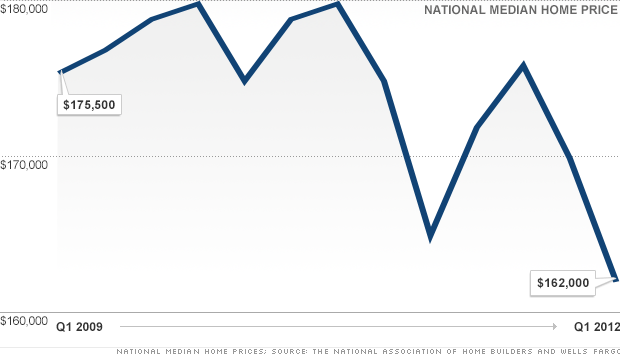 Home prices have moved up and down since the start of Obama's term. Lifted in 2010 on the back of the Recovery Act's homebuyer tax credit, prices later fell when the credit expired. But overall, the trend has been lower, and housing remains in a major slump.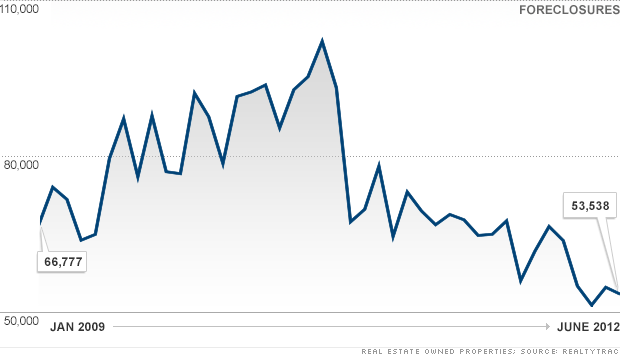 More than 3 million Americans have lost their homes to
foreclosure
since early 2009, but bank repossessions have fallen in half since they peaked in September 2010.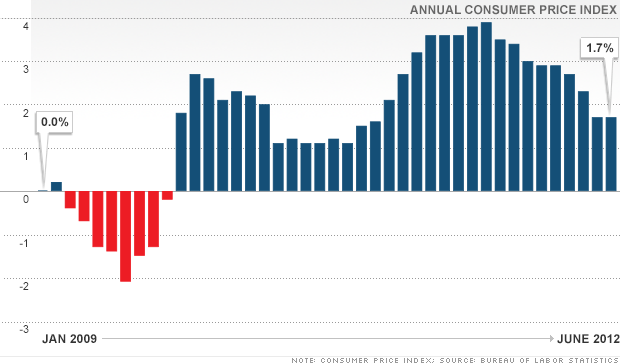 Gas and food prices have had a few temporary growth spurts in the past few years, but overall, inflation has remained relatively low, held back by falling home prices and stagnant wages.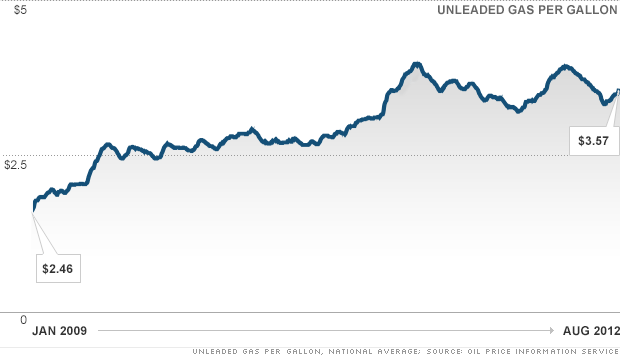 Three-and-a-half years ago, filling up at the pump cost around $1.60 a gallon. But then,
gas prices
began to climb, eventually topping out at nearly $4 a gallon in mid-2011, and coming pretty close again in 2012. Since then, prices have fallen back a bit, but at $3.35 a gallon, are still nowhere near 2009 levels.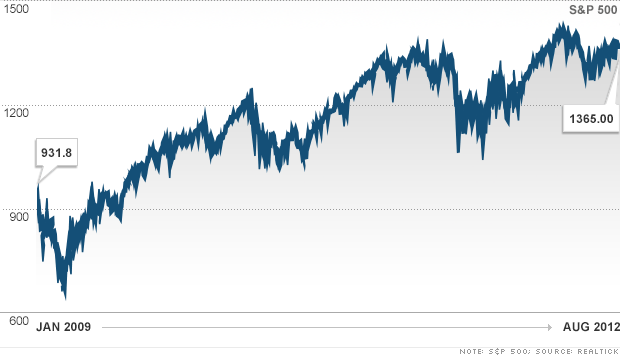 After bottoming out in 2009, stocks came roaring back over the next several years. But after starting 2012 with the best quarter in years, the European debt crisis and a slowing U.S. economy spooked investors, putting CNNMoney's
Fear & Greed index
in extreme fear territory. Experts still predict the
S&P 500
will end 2012 on a high note. Most strategists
surveyed
by CNNMoney think the broad index will end the year up 14% from where it started.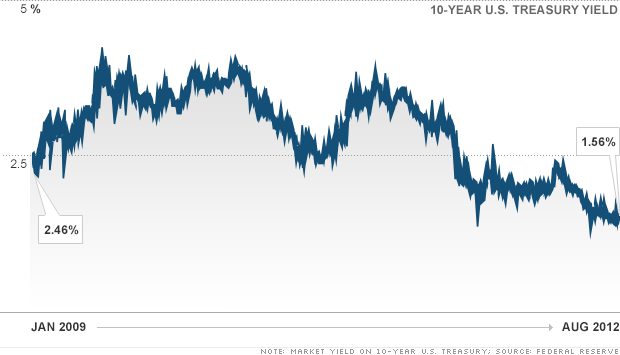 Already-low interest rates rose steadily in 2009 as the economy slowly began to recover, with the yield on the benchmark 10-year note hitting 4.01% in the spring of 2010. But since then,
extreme fear
has settled in, sending investors fleeing for the safety of government-backed U.S. Treasuries, sending
10-year yields
tumbling to all-time lows.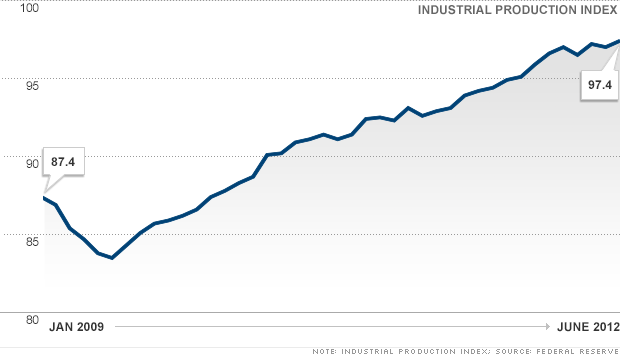 Manufacturing slowed through much of 2009, bottoming out midway through the year. Since then, the sector has steadily rebounded, with industrial production hitting a nearly four-year high in April.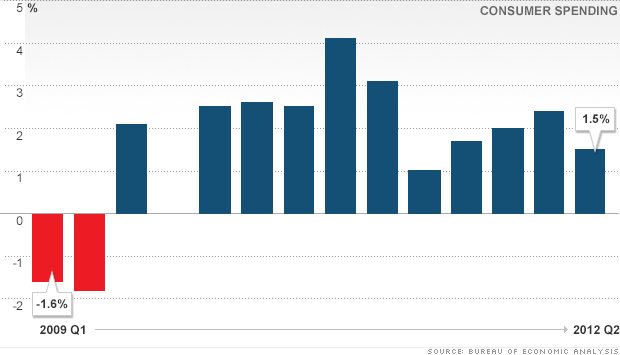 Amid slumping home prices and rising unemployment, consumers pulled back on their spending during the recession. Stimulus programs temporarily boosted auto sales and home purchases in 2009, but since then, spending has picked up only gradually. Consumers are focusing on paying down debt instead.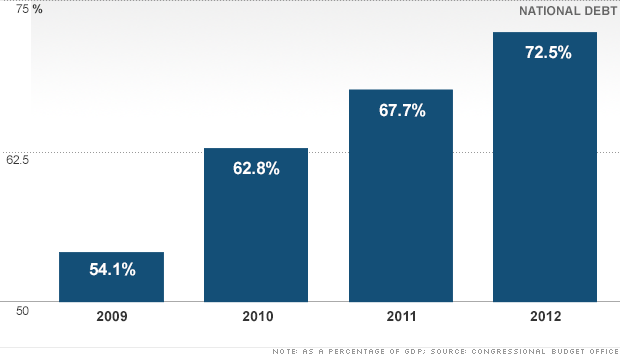 The financial crisis of 2008 spurred a big chunk of spending increases and tax cuts to stem the pain of the downturn. That's a key reason why debt held by the public -- individual bondholders, big investors, and foreign governments -- has increased significantly since 2008. That jump will have to be paid off with interest.
Much of those emergency measures will end, so for the next decade annual deficits should be much lower than they've been recently. But over the long run, debt is still projected to grow faster than the economy. Policymakers will have to address it soon, or risk not being able to fund everything Americans expect their government to do.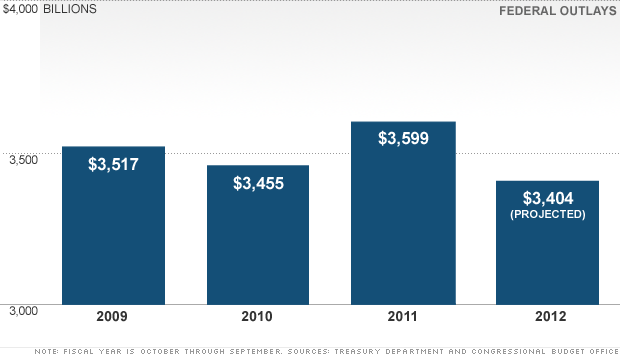 The bank bailout and federal stimulus programs aimed at juicing the economy pushed up spending significantly in fiscal 2009, which began in October of 2008. Revenue, meanwhile, fell to 60-year lows as the economy slumped and millions of people lost their jobs. That, in turn, increased safety net spending.